On its path to become the most revolutionary island resort and gamechanger to hit the Maldives tourism industry, Indian Ocean iconoclast  Siyam World is at again with the launch of the world's first underwater jet pack in collaboration with Cudajet.
Siyam World made waves already when it opened with the Maldives' biggest floating water park, had rivals trailing in its wake after launching the Maldives' first ever Seabreacher, along first ever water bikes, even a fleet of Mini Mokes, and is now enhancing its collection of unique experiences and pioneering concepts with the revolutionary underwater jet pack, the Maldives and the world's first ever.
The jetpack is a luxury water sports toy that gives you the feeling of ultimate freedom with predator-like manoeuvrability as you fly weightlessly around a new underwater world. The CudaJet can be mounted and dismounted in seconds to perform hot swaps between divers. The harness provides buoyancy which allows the diver to rest at the surface in-between dives with ease. The Cudajet not only offers unparalleled freedom to explore the underwater world, it also gives the feeling of weightless flight which enables moves like smooth barrel rolls underwater. With its unique mounts, the diver controls the direction of travel, it's as simple as looking where you want to go and your body will follow. With its compact and size that packs a speed of up to 3.0 m/s and thrust of 40kg, Cudajet will redefine the concept of free diving.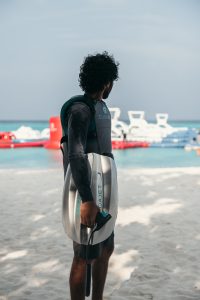 Siyam World guests can now enjoy the unparalleled freedom of exploring the underwater world in style and speed at USD 149 for 20 minutes or USD 166 for 30 minutes. From a simple fun dive excursion or a more in-depth course from our Cudajet-qualified Dive Temple , guests are able to learn advanced movements and start the journey of receiving Cudajet qualifications right on the island resort.
Siyam World is an unapologetically quirky, all-embracing five-star all-inclusive island destination that transcends cultures and borders to offer guests an ever-expanding array of 'never-seen-before' experiences – from the Indian Ocean's biggest floating water park to the Maldives' first resort horse ranch. The natural 54-hectare island resort boasts an enticing variety of 18 accommodation categories ranging from 89 to 3,000 square metres, from lush Pool Beach Villas, expansive Beach Suites and breath-taking Beach Residences to playful overwater Villas complete with irresistible water slides. An exclusive enclave, The Beach House Collection, also features stunning Grand Water Pavilions and the magnificent Palace. All accommodation types overlook the pristine Maldivian waters, come with direct access to the ocean and feature generously proportioned indoor and outdoor living spaces with private pools.