Hailing from the cosmopolitan city of Vienna, Via Toledo was founded in 2016, by culinary pizza master and Chef Francesco Calo, adding now a new addition to their family in the iconic Address Beach Resort, Jumeirah Beach Residence.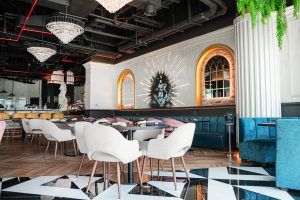 Sure to tantalise guests with its delightful unique and award-winning Italian concept and signature Neapolitan-style pizza that they are famous for, Via Toledo is all set to dominate Dubai's culinary scene with its picturesque local and sumptuous flavours.
The concept for this innovative restaurant was thought up by the remarkable Francesco Calo who wanted to give his guests a true Italian dining experience inspired by the excellence of the original Neapolitan pizza. His unique pizzas are made using a unique blend of flours specially created by him to ensure digestibility and lightness, all enhanced by a sublime combination of toppings from beluga caviar to alba white truffle. Utilising authentic and organic products, the chef at Via Toledo, use a unique blend of flour that is a staple in all their incredible pizzas. The flour, which has been aptly named Intensa for its singular flavour, consciously embraces the wind of gastronomic innovation, exclusive to Via Toledo.
Via Toledo not only serves up the most divine Italian cuisine, but each item on its extensive menu also comes with a recommended wine pairing, from the venue's brilliant selection of fine wines. The expert sommeliers and chefs at Via Toledo have carefully curated the menu to create unrivalled dining experiences for each guest.
Winners of the "Best Italian Pizza Chef in the World" in 2019, and then in 2020 and 2021 winners of the "Best Pizza in Austria" in the prestigious Italian ranking of "50 Top Pizza", Via Toledo is a truly incomparable dining experience. Guests can indulge in unique dishes including their 24k Gold Montanara Pizza and their delectable caviar pizza, whenever they visit.
Founder and Pizza Chef Master, Francesco Calo, commented, "From the moment guests walk in the door they will get a sense of the sophisticated excellence that is Via Toledo. Situated in the beautiful Address Beach Resort with magnificent views of JBR, guests can enjoy world-famous Italian cuisine and some of the most unique pizzas they will ever see. We want to give foodies an unrivalled true Italian dining experience with every visit."
Adding even more authenticity to the Via Toledo experience is the venue's furniture that has been especially selected and flown in from Italy. A real treat for all the senses as you spoil yourself with irresistible Italian cuisine, and unbeatable views of the outstanding Jumeirah Beach Residence, surrounded by bespoke surrounds reminiscent of the breathtaking streets of Rome or the elegance of the Bay of Naples.
About Via Toledo:  
 In the iconic Address Beach Resort that dominates the JBR skyline, Via Toledo, a new Italian restaurant with a unique and elegant concept, based on the artistic combination of the best Italian flavoUrs and the most sophisticated Italian wines. 
Founded by Pizza Chef Master, Francesco Calò, an award-winning chef having been crowned "the Best Italian Pizza Chef in the World" for the same innovative concept he first created in Vienna in 2016. Via Toledo is all set to make its Middle Eastern debut at the beautiful setting of the Address Beach Resort, where they will be offering all lovers of cuisine a true Italian dining experience inspired by the excellence of the Original Neapolitan Pizza combined with a specially designed selection of top Italian gourmet main courses, the finest collection of wines, traditional beers, and special cocktails.