The Kingdom's three-day travel trade fair will be held 22-24 May, 2022 at the capital's exhibition center, RICEC
The Riyadh Travel Fair (RTF) is coming back to Saudi Arabia, and it's coming back bigger than before. The news was announced recently by ASAS Exhibitions; the official organiser of the travel and tourism event that has otherwise been held annually since 2009.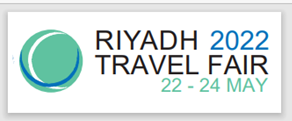 The 12th edition of the Fair will be held after a two-year-long hiatus due to the Covid-19 pandemic, and will open its doors to exhibitors, trade visitors and travel enthusiasts from 22-24 May, 2022. The three-day fair will be held for the first time at the newly developed exhibition center; Riyadh International Convention & Exhibition Center (RICEC).
Demand from exhibitors to participate in the event has been extremely strong, with most of the available spaces fully booked. Some spaces do remain available however, which once finalized will see more than 300 participants representing tourism boards, airlines, Destination Management Companies (DMCs), hotels and resorts, and tour operators from over 40 countries in attendance.
A key theme at Riyadh Travel Fair 2022 will be 'Safe & Meaningful Travel Following a Covid Pandemic World'. Through various platforms a number of networking events and business opportunities for participants will be held over the course of the three days, as well as providing an opportunity for exhibitors to meet with Riyadh's travelling public and popular influencers and media representatives.
15 new destinations and companies are participating for the first time in the annual exhibition, including representatives from Thailand, South Africa, Azerbaijan, Mauritius, Maldives, and Philippines among others.
"We are so glad to be back!", stated Bander Algryni, General Manager at ASAS Exhibitions.
"It is great to see the desire for travel returning with such force and resilience and the inclusion of new participants and new events to the coming RTF editions. It will be a whole new experience for both exhibitors and visitors alike, that celebrates the world of travel.", he continued.
Organised for the first time in 2009, the Riyadh Travel Fair has been able to establish itself as a leading travel trade and consumer exhibition within the region.
30% of exhibitors hail from the Middle East and North Africa region, making the mix of exhibitors extremely international. Other regions well represented include East Asia and Europe. Riyadh Travel Fair 2022 is open to tourism professionals and to the general public. The event is considered an ideal platform for trade professionals and travel enthusiasts seeking interactive experiences, detailed travel information and promotional offers from some of the most popular destinations around the world.