Dubai Creek Harbour is the beautiful meeting point of Dubai's past and future. Look one way and experience the charm and culture of the souks and abras, look the other and you'll see the Burj Khalifa and the bustling metropolis that is Downtown Dubai. Joining these worlds is one of the city's trendiest new spots, a blend of creative energy and restful retreat, Dubai Creek Harbour has something for all ages from phenomenal amenities, to world-class dining, stunning architecture to biodiverse natural ecosystem. It is time for you to check it how – and here's where to start…..
Explore the magnificent marina
We may not all be able to moor a vessel in Creek Marina but that doesn't mean we can't enjoy it. The sight is spectacular nestled among stunning towers and looking out to the water, enjoy the beautifully presented promenade for a walk and quick stop at a food truck, or sit back and relax in one of the many restaurants. Filled with art and culture, as well as great retail and recreational options this is a part of Dubai Creek Harbour that is always alive.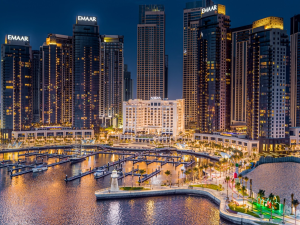 Hop on a cruise
Celebrating the past and the future is a key focus in Dubai Creek Harbour, and you can do both on the water. Get on a water cruise to sail up the Creek onto the Dubai Canal and enjoy Downtown Dubai, Burj Khalifa and Dubai Waterfall. Or, you can hop on an Abra and head to Old Dubai and all the character it contains. Two very different routes, two incredible experiences.
Stroll along the promenade
With 6km of perfectly presented walkways, Harbour Promenade is a gorgeous spot for a stroll. Take in the incredible scenery of the place where 'old' and 'new' Dubai converge and soak up the cosmopolitan atmosphere of this vibrant location. If it all gets too much for your feet, there is a plethora of restaurants and cafes to take the weight off and watch the world go by.
Get on the Gram
There's no need for frames and filters when you're at Dubai Creek Harbour. Whether you are getting a sassy selfie or lovely landscape, you will not be short of amazing backdrops. From the Tree of Artificial Flowers, to an incredible sunset (more on that in a moment), or the stunning Joy Tree Sculpture and other beautiful art installations, this an area of the city that will get people double-tapping on your images in no time.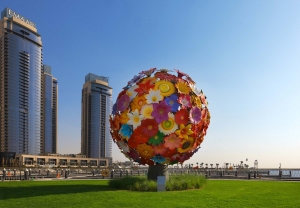 Stay in a world class luxury hotel
In close proximity to Dubai International Airport, and central to so many of the city's biggest attractions Dubai Creek Harbour is the perfect place to stay whether for business or pleasure. With Vida Creek Harbour and Address Grand Creek Harbour both situated in incredible spots across the Harbour you are ready for the stay of a lifetime.
Get back to nature
When you are looking for a break from city life, Dubai Creek Harbour is a haven on your doorstep. The area is home to one of the most significant biodiversity areas in the UAE: Rhas al Khor Wildlife Sanctuary, come here and enjoy tens of thousands of birds in their natural habitats.
Marvel at incredible architecture
The developments at Dubai Creek Harbour are a feast for the eyes. An area filled with modern creativity, coupled with the sensitivities of sustainability and a nod to the significant past of the area this is a design dream.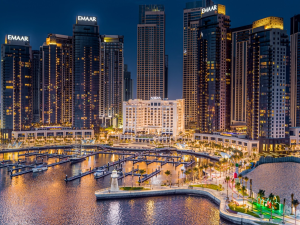 Take in a dreamy sunset
We all love a good sunset, and what can be seen at Dubai Creek Harbour simply has to be witnessed. Whether you are walking on the promenade, sipping on a terrace, or taking a dip in a hotel's rooftop pool, to see the sun disappear behind a vista of the Creek, abras, and their surrounds, is something magical.
Sample cuisine of the world
Sourced from all corners of the world, the dining options are simply incredible. At Vida Dubai Creek, Stage 2 has a growing reputation for being one of the coolest spots around to chill and enjoy some light bites, while Soulgreen brings a unique concept of plant-based food that's great for the soul, along with your physical and mental wellbeing.  The Restaurant at Address Grand Creek Harbour is designed to be a home away from home, offering a variety of dining areas and stunning internationally inspired cuisine – stop off at the bar too, it is lavish and does the best cocktails around.