Vanitas, the signature Italian restaurant at Palazzo Versace Dubai has introduced a delectable new menu, launching a selection of classic dishes with a contemporary twist. Loved for its expertly crafted, authentic Italian fare crafted using only the best ingredients, the upscale Vanitas has introduced a brilliant new offering for guests to enjoy.
Bringing a strong touch of Italian tradition to Vanitas and a host of experience working at Michelin-lauded establishments in the past, new Chef de Cuisine Luca Crostelli has re-imagined the restaurant's much-loved menu, introducing delectable new dishes that are sure to become crowd favorites. Striving to deliver the perfect balance between authentic Italian taste and an aesthetically pleasing presentation, Chef Luca and his expert team have curated a range of new Vanitas dishes, reinterpreting traditional Italian classics that will take diners on a culinary journey through Italy.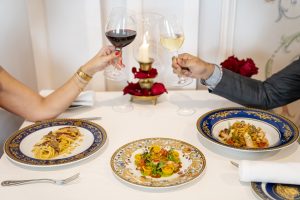 To start their Vanitas experience, guests can choose from a selection of brand-new starters, such as Vitello Tonnato (roasted veal loin, tuna cream, capers and berries); Carpaccio di Manzo (cured black Angus beef carpaccio, zucchini escabeche, Parmigiano emulsion with croutons, balsamic dressing and fresh black truffle); or Parmigiana Di Melanzane (fried eggplant, Parmigiano cheese with tomato and basil pesto.)
Seafood lovers can enjoy an array of seafood-centric starters, including the Tonno Scottato (Sicilian tuna tataki, Amalfi lemon, candied tomato and rucola pesto), Carpaccio di Ricciola e Coulis di Datterino (Amberjack carpaccio, green beans, Datterino coulis with puffed quinoa), and Polpo e Peperoni (seared octopus, roasted pepper cream and parsley emulsion) to start.
Drawing on his many years of expertise in making fresh, handmade pasta, Chef Luca has added delicious new pasta dishes to the Vanitas menu, including Spaghettone alla Carbonara Tartufata (carbonara sauce, goose bacon, Pecorino and Parmigiano cheese with black truffle); Ravioli all'Astice (lobster ravioli with fresh green peas, lobster bisque and spring onion); Tortelloni alla Norma (ricotta ravioli with norma sauce and fresh oregano); Linguine "Mancini" Alla Pescatora (seafood brodetto) and Il Plin di Faraona (wild chicken ravioli with aromatic jus, Parmigiano cheese and black truffle.)
Two new delectable main dishes made their way onto the Vanitas menu, with the addition of Filetto Di Salmone Finocchi e Arance (seared salmon, with sundried tomatoes, orange, fennel and yogurt sauce) and Polletto, Foie Gras e Tartufo Nero (slow cooked organic baby chicken with eggplant, balsamic vinegar, foie gras and black truffle.) Other highlight menu items include Vanitas' selection of delicious Italian cast iron pan pizzas, such as Pizza Al Tartufo (black truffle, wild mushrooms, and Pecorino cheese) as well as Pizza Cacio, Pepi e Gambero Rosso (Parmigiano Reggiano, Pecorino, black pepper, red shrimp and rocket salad), and more.
A night is never complete without dessert, and guests can indulge in Pannacotta Agli Agrumi (citrus cream, mixed berries, passionfruit caviar, and Italian meringue) or dig into the restaurant's signature Vanitas Tiramisu (Mascarpone mousse, and Savoiardi sponge espresso coffee syrup.)
Head over to Vanitas to try Chef Lucas' exquisite new menu featuring stunningly hand-crafted dishes with top-notch ingredients, complete with beautiful views of Dubai Creek for a spectacular culinary experience like no other.