With the second edition of Middle East & North Africa's 50 Best Restaurants, Nespresso is proud to announce its partnership with the brand as its official coffee partner of choice in the MENA region. 
With a long history of working in partnership with high profile chefs around the globe, Nespresso has a longstanding reputation as a leading coffee brand chosen in top gastronomy and within the fine dining industry.  With this new partnership, Nespresso reaffirms its commitment to quality, consistency, and taste innovation celebrating the region's gastronomy and providing diners around the globe with local insight and culinary recommendations.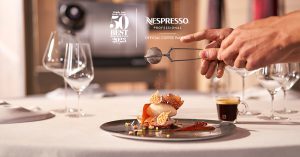 Nespresso and 50 Best both have a shared passion for exploring new culinary trends, striving to be a progressive force in the hospitality industry and serving as a curator of the finest consumer experiences. With a relentless commitment to excellence in all that it does, Nespresso aims to consistently create moments of pleasure for coffee lovers everywhere.
In addition to being the official coffee partner of choice, Nespresso is also the sponsor for the Middle East & North Africa's Best Female Chef Award. This year, Salam Dakkak, chef-owner of Bait Maryam restaurant in Dubai, has been named the MENA's Best Female Chef 2023.
Commenting on the partnership, Francisco Nogueira, Business Executive Officer – Nespresso Middle East and Africa said: "Nespresso has a longstanding global programme that supports female agronomists and women in coffee. In line with this, we are proud to support the 50 Best organisation's mission to honour female role models within the culinary industry in the region, with the esteemed Best Female Chef Award."
"Nespressois driven by a commitment to the highest quality and devoted to offering the ultimate coffee experience to consumers around the globe, which aligns with the 50 Best brand's mission to provide a snapshot of the world's best culinary experiences and being a barometer for global gastronomic trends," added Nogueira.
During the 50 Best events, Nespresso will be serving CONGO ORGANIC, a smooth coffee with a mild, fruity note, and alluring sweet cereal and nutty aromas – perfectly fitting for a fine dining experience. CONGO ORGANIC is the first organic coffee blend in Nespresso's Reviving Origins program, the company's long-term approach to restoring coffee production in regions impacted by adversities ranging from climate change to conflict.
Made with care, CONGO ORGANIC is grown near Lake Kivu in the Democratic Republic of the Congo (DRC), where the once-thriving coffee farming community has been devastated by decades of political and economic instability. The support of Nespresso and its partners is helping to revitalise Kivu coffee industries and breathe new life into local economies and communities across the region, while also preserving the future of this unique, exceptional coffee for consumers around the world to enjoy.