JW Marriott Mauritius Resort is a picturesque family-friendly retreat with 172 lavishly appointed guest suites boasting idyllic views of the Indian Ocean. Situated on the southwestern side of the island, the resort is set against a backdrop of the majestic Le Morne Brabant, a UNESCO World Heritage Site. Surrounded by protected coral reefs and lush vegetation, guests can immerse themselves in the heart of authentic Mauritian culture whilst enjoying the wealth of experiences the resort has to offer.
Recently renovated, the century-old colonial-style JW Marriott Mauritius offers timeless luxury in a place where guests can be mindful and present. Personalised service is at the resort's very core, with butler service available to all. Room offerings are varied, from Ocean Junior Suites with far-reaching views, the Manor House Spa Suite with an ensuite spa experience, and the Grand Beachfront Villa – which boasts four luxurious bedrooms, private pools and is the largest private resort villa in the Indian Ocean.
The resort has an assortment of remarkable epicurean experiences with five distinct fine-dining restaurants offering French-inspired Mauritian cuisine, Southeast Asian dishes, fine Japanese selections, seafood, grilled meat delicacies and traditional Indian flavors. For those looking to unwind, Pure Spa is a haven of relaxation, a revitalising sanctuary that offers a series of signature rejuvenation and stress-relieving treatments; a specially curated weekly wellness schedule is also on offer.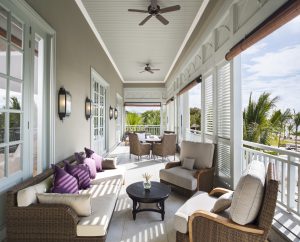 Guests can enjoy a range of adventurous water-based activities from swimming with dolphins to diving, surfing and snorkeling at pristine locations including the iconic 'One-Eye' spot, a location renowned around the world for its excellent kitesurfing. A stargazing programme runs at certain times of the year, and there is the luxurious 32-seat La Palme d'Or Private Cinema that screens the latest films.
JW Marriott is a luxury hospitality brand rooted in holistic well-being, providing a haven for guests to focus on their mind, body, and spirit. Guests are welcomed with an authentic warmth that conveys a deep sense that "all is well." With over 100 JW Marriott hotels in more than 35 of the most sought-after destinations worldwide, Mauritius is the latest awe-inspiring addition to this impressive array of properties.