DRVN, Dubai's well-known automotive-themed café located on Bluewaters Island, has strengthened its partnership with Porsche and officially introduced a rebranding concept, "DRVN by Porsche".
Porsche Middle East and Africa FZE recently signed a collaboration agreement with DRVN's management.
"Porsche understands the ideology of DRVN and our partnership has been a perfect symbiosis of two like-minded brands since day one. Currently, we are exhibiting the 'Porsche x Art' theme, where automobile expositions are accompanied by the work of regional artists such as Dozi Dreams and Rami Afifi, and I am excited to see the next planned themes and display cars," said Rashed Al Fahim, founder of DRVN.
The partnership was launched with an exposition that presented modern art pieces by emerging artists, showcasing a curated collection of works in dialogue with a contemporary visual language.
As a passionate car collector himself, Rashed Al Fahim inherited his fascination with the automotive sector from his father, who collected cars for over 50 years. Rashed's vision was instigated by his desire to share the collection and his passion with people of all ages, genders and interests, which led to the founding of DRVN. With three branches located in Dubai and Abu Dhabi, his everlasting aspirations came to reality.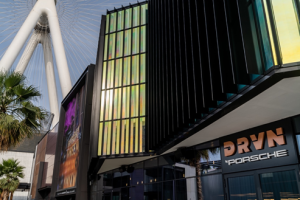 A mix of classic and rare limited cars will be on continual rotation in the Dubai branch, ensuring an incentive to visit DRVN by Porsche with its exhibition of Porsche Museum and personal collectors' cars. After the seasonal "Porsche x Art" theme, the brand's second instalment of "Icons of Porsche" is set to take place towards the end of this year.
For Porsche Centre Dubai, the partnership is a natural collaboration, embracing the 'cars and coffee' concept that allows Porsche customers and car enthusiasts to indulge in a family-friendly lifestyle environment.
Commenting on the association, Dr. Manfred Bräunl, Chief Executive Officer of Porsche Middle East and Africa FZE, said: "Our relationship with DRVN has been a very successful one which we embraced last November in the lead-up to our 'Icons of Porsche' event when DRVN displayed some of our most unique Museum cars from Stuttgart during the first days of opening its new location in Dubai. The atmosphere is welcoming for everybody, including families and automotive enthusiasts, and we believe it is the perfect, holistic platform to bring the community together by using the synergies and passion for fast cars, perfect coffee and delicious cuisine."
Additionally, visitors of DRVN by Porsche will be able to purchase limited-edition Porsche Lifestyle merchandise such as branded T-shirts, caps, keychains, mugs, figurines, and other accessories that are produced exclusively for this partnership.
Come by, scan a QR code and learn more about the unique cars and artworks.
Get social with us! @drvn.ae #StayDriven #DRVNbyPorsche
 END
About DRVN:
Founded in early 2019 in Abu Dhabi and in 2021 in Dubai, DRVN is a contemporary home-grown concept that combines artisan in-house roasted coffee, authentic Neapolitan pizza and an automotive-design space. The DRVN culinary experience offers a selection of dishes from a unique urban artisan cuisine to the coffee beans sourced from the well-known coffee-growing regions of Ethiopia, Panama, Brazil, Columbia and more. Currently, the restaurant spaces operate in 3 branches across Dubai and Abu Dhabi.
Instagram: @drvn.ae