Al Faisaliah Hotel, Riyadh presents an exciting array of offerings for guests to stay, dine, and enjoy the glorious winter weather in the Kingdom. Guests can experience a luxe weekend getaway or treat their loved ones to a lavish family holiday, complete with gourmet dinners, luxurious shopping and much more.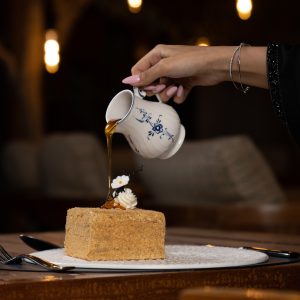 Winter Nights at La Brassiere Café  
The ideal way to enjoy Riyadh's cooler evenings is at Al Faisaliah Hotel's Winter Nights, taking place at La Brasserie Café's terrace. Guests will enjoy dining al fresco with family and friends under the evening sky and the terrace's beautiful outdoor lighting. Feeling the gentle evening breeze, guests can sample delicious desserts, such as the San Sebastian Lavender Cheesecake with warm Valrhona chocolate sauce, Honeybee Cake and Apple Pie, or sip on winter favourites such as Levant Flower Tea, Granny's Apple Punch, and Cinnamon Lattes.
Winter Stays at Al Faisaliah Hotel, Riyadh  
For couples wishing to spend a magical winter in Riyadh's finest address, Romantic Getaways provides a curated itinerary that begins with a delightful room or suite set-up with charming decorations. This special couple's experience includes daily breakfast for two at La Brasserie or daily SAR 240 in-room dining credit, in addition to SAR 500 dining credit per night and 20% off The Spa and Health Club services.
The Ultimate Riyadh Celebration offers the perfect opportunity for guests to stay at Al Faisaliah Hotel while experiencing the annual Riyadh festival, complete with two tickets to the popular Riyadh Boulevard. The package provides up to 20% off the Best Available Rate alongside 20% off in all of Al Faisaliah Hotel's restaurants.
Guests at Al Faisaliah Hotel, Riyadh can also celebrate the best of the season with Splendid Weekends, offering a weekend stay that is full of exquisite dining experiences. The package includes SAR 500 dining credit for The Globe on Thursday, brunch for two with live cooking stations at La Brasserie on Friday and breakfast on Saturday.
Families by M.O. is guaranteed to delight the whole family, offering 50% off for the second room to accommodate families of all sizes. Children will be thrilled by welcome amenities and complimentary meals from the kid's menus, in addition to other dining offers and 20% off The Spa and Health Club.
All stay packages include complimentary valet parking and a 24-hour personal butler to take care of all the guests' needs.
This season, Al Faisaliah Hotel, Riyadh boasts a diverse range of hospitality packages for those looking to revel in the beauty of winter, and guests are sure to have an unforgettable experience.
About Al Faisaliah Hotel, Riyadh
With an enviable location in the heart of the prestigious Olaya district, Al Faisaliah Hotel is the epitome of Arabian hospitality in Riyadh. The luxurious hotel features 325 tastefully designed rooms and suites, complemented by around-the-clock butler service, an array of exquisite dining options, an award-winning ladies-only Spa and a state-of-the-art fitness centre. The hotel's 6,300 square meters of customisable meeting facilities have been designed to accommodate events of any size. Surrounded by Al Faisaliah Tower, Mode Mall and other Riyadh's key attractions, Al Faisaliah Hotel is a cosmopolitan hub with Saudi charm.
About Mandarin Oriental Hotel Group
Mandarin Oriental Hotel Group is the award-winning owner and operator of some of the world's most luxurious hotels, resorts and residences. Having grown from its Asian roots into a global brand, the Group now operates 35 hotels and seven residences in 24 countries and territories, with each property reflecting the Group's oriental heritage. Mandarin Oriental has a strong pipeline of hotels and residences under development, and is a member of the Jardine Matheson Group.
Further information is available on our Social Media channels and website: www.mandarinoriental.com