From riding horseback across the native bushland of Australia to Chimpanzee trekking above the canopy tops in Rwanda, GCC travelers are invited to embark on a collection of once-in-a-lifetime adventures and capture rare moments with One&Only Resorts. Offering exclusive accommodations in some of the world's most sought-after destinations, guests can indulge in the rich cultures of each destination and immerse themselves in one-of-a-kind luxury experiences.
Please find more information below:
Trek with Chimps At One&Only Nyungwe House
Steeped in natural beauty and nestled within Rwanda's Gisakura tea plantation, One&Only Nyungwe House, sits on the edge of one of the oldest rain forests in Africa offering a bespoke itinerary of activities for GCC travelers to discover as they explore the Nyungwe National Park and beyond. From taking a walk amongst majestic trees, trekking through the jungle to discover remarkable animal encounters or embarking on a helicopter ride high above the incredible views, there's something to suit everyone at One&Only Nyungwe House.
Home to some of the most diverse primate populations in Africa, guests have the opportunity to take part in a wide selection of once-in-a-lifetime excursions, allowing them to truly immerse themselves in nature throughout their stay. Chimpanzee Trekking is a fun and face-pased experience, that guests will never forget. Trek along wild paths, through lush forests, while trying to keep up with these incredibly cherished creatures. At the break of dawn, an expert guide will lead guests into the heart of the jungle, on the trail of chimpanzees. A rustle of leaves, and then, through the branches, chimpanzees can be spotted gazing down from the fig trees. Guests may also see a troop of tree-dwelling chimps catapulting off through the canopy. Every trek is different, and the jungle's charismatic chimpanzees are full of surprises.
For more information or reservations, please visit https://www.oneandonlyresorts.com/nyungwe-house/experiences/chimpanzee-trekking
Experience Wolgan Valley on Horseback at Emirates One&Only Wolgan Valley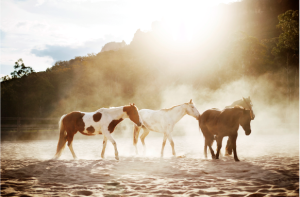 Nestled in a private valley and protected by soaring bush escarpments, Emirates One&Only Wolgan Valley offers an ultra-luxury, conservation-based resort located in the Greater Blue Mountains region, just a 2.5-hour drive from Sydney. Set on its own private  7,000-acre  carbon-neutral wildlife reserve,  the resort combines  One&Only ultra-luxury style with a quintessentially Australian bush experience.
There's truly no better way to experience the spectacular Wolgan landscape than by horseback. Take in the majesty of Wolgan Valley while exploring winding trails through river crossings, gloriously scenic hills, open grasslands and native eucalypt woodland before stopping in one of the property's most scenic locations to enjoy a morning or afternoon tea prepared by the resort's culinary tea. Each riding experience is tailored to suit riders of all levels from beginners to the most experienced ensuring confidence of the complete group and ensuring each rider has an enjoyable and safe experience.
For more information or reservations, please visit https://www.oneandonlyresorts.com/wolgan-valley/experiences/wolgan-valley-stables
Spot the Blue Giants at One&Only Cape Town
For GCC travellers looking to discover the beauty of South Africa, One&Only Cape Town is a serene enclave just off Cape Town's vibrant V&A Waterfront. The resort has recently completed an extensive reimagination, introducing a new design that honours the destination's ocean, land and heritage. This nautical escape offers panoramic views across the Waterfront and the famous Table Mountain, and offers a chic urban break, with all the wonders of South Africa available on the doorstep.
Cape Town is home to a number of once-in-a-lifetime experiences from whale watching or shark diving to visiting Boulders Beaches' resident penguins. Learn about the gentle giants that call the Cape waters home each year and embark on a bespoke private tour of the best viewing spots for the humpback, Bryde and southern right whales. For the ultimate experience, observe these magical creatures from the sky with a private helicopter trip to Hermanus, one of the top 12 whale-watching locations in the world where the whales often come within metres of the shoreline.
For more information or reservations, please visit https://www.oneandonlyresorts.com/cape-town/experiences/marine-wildlife/whale-watching
Call of the Gibbons at One&Only Desaru Coast
Positioned on the south-eastern shoreline of Malaysia and set between lush rainforests and the South China Sea, One&Only Desaru Coast expands across acres of unspoilt flora and pristine stretches of white sanded beach. Easily accessible from Singapore and Johor's Senai Airport, this ultra-luxury tropical escape offers guests curated experiences that they will never forget.
Guided by the resort's resident Naturalist, Call of the Gibbons offers an exciting jungle trek designed for guests to discover exotic flora and fauna as they listen to the morning chatter of the White-Handed Gibbons found in the Panti Forest Reserve. Avid bird watchers can catch a glimpse of the fleeting White-Bellied Eagles and Short-tailed Babblers in this bird sanctuary. A beautifully prepared tropical picnic surrounded by nature completes the experience.
For more information or reservations, please visit https://www.oneandonlyresorts.com/desaru-coast/experiences/signature-experiences