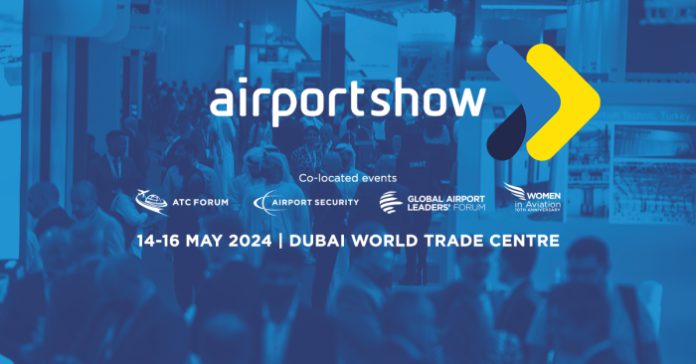 Dubai is hosting the 23rd edition of the Airport Show, the largest annual exhibition dedicated to the Middle East, Africa and South Asia region's airports industry,  from 14 to 16 May 2024 at the Dubai World Trade Centre.
The exhibition will also host four co-located events – Air Traffic Control Forum, Airport Security Middle East, the Global Airport Leaders' Forum and the Women in Aviation Middle East Chapter Conference.
As the leading international suppliers will be displaying their most advanced airport technology, innovations and solutions, the B2B platform will be an ideal platform for the aviation industry stakeholders to get first-hand knowledge about emerging aviation trends, network with global industry leaders and source the latest technologies to meet the passengers' expectations. Its organizers, RX, the London-based company that hosts over 400 events in 22 countries across 42 industry sectors, say the three-day exclusive business platform will be attended by over 6,000 aviation industry decision-makers and professionals.
His Highness Sheikh Ahmed bin Saeed Al Maktoum, President of the Dubai Civil Aviation Authority, Chairman of Dubai Airports, Chairman and Chief Executive of Emirates Airline and Group, patron of the event said: "Airport Show presents a tremendous opportunity for stakeholders within the regional aviation ecosystem to convene, collaborate and solidify a roadmap for an innovation and sustainability-driven future. Through the event, Dubai has provided an excellent B2B platform in the last two decades and has remained a driving force for the industry. The annual event serves as an innovation hub and a platform for the stakeholders to align fully with regional demands, emerging industry trends and the vision of the leadership to ensure the region retains and consolidates its leading position for growth, investment and innovation in aviation."
More than 200 exhibitors from over 20 countries will participate in this year's exhibition. It will feature six country pavilions and over 150 buyers from more than 20 countries. The B2B platform will witness 3,500-plus meetings in its popular Business Connect Programme. The four in-event networking and knowledge- sharing platform will be Innovation Trail, Sustainable Apron, Start-up Zone and Youth in Aviation, along with an equal number of co-located events – Global Airport Leaders' Forum, Women in Aviation Conference, Airport Security Middle East and Air Traffic Control Forum. Over 60 speakers will grace the occasion and speak on diverse aviation topics, including but not limited to Sustainability at Airports, Passenger Experience, Ground Handling, Airport Security and Air Traffic Management.  There will be more than 30 conference sessions.
Key players of the region's aviation sector and standing partners of the Airport Show including the Dubai Civil Aviation Authority, Dubai Airports, Dubai Aviation Engineering Projects, Emirates Airline and Group, Dubai Air Navigation Services (dans) and dnata will continue extending their support to the iconic event. The Airport Show and its co-located events have enjoyed the collective endorsement of the regional aviation community given its agenda of furthering the efforts towards ensuring the airports' transformation to meet the passenger expectations and enhance their safety and security along with facilitating ease of flying.
Officials expressed confidence that the event will foster greater collaboration among the aviation industry stakeholders such as airports, airlines and the Air Navigation Service Providers. Data from the International Air Transport Association (IATA) has stated that passenger traffic is expected to witness a full recovery from the impact of the 21st century's second pandemic and predicted full recovery to 2019 levels possibly by 2024. The Airports Council International also says international travel is forecast to recover by 2025.
Until 2041, the total passenger traffic worldwide is predicted to grow at a compound annual growth rate (CAGR) of 7.5 per cent, with a steep recovery gradient observed until 2026. Passenger traffic worldwide is expected to reach 19.3 billion in 2041 and 23.9 billion in 2050. International passenger traffic is forecasted to grow to 4.4 billion international passengers in 2026. In 2041, airports are predicted to handle almost 200 million tons of air cargo worldwide. Aircraft movements are forecast to grow to 111.6 million by 2026. Airports worldwide will see 153.8 million aircraft movements by 2041.